Up in the Air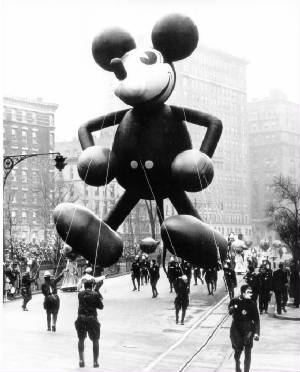 Balloon handlers steer 1st ever Mickey Mouse- designed by Walt Disney- during Macy's Parade 1934
As a little girl in the 1970s, I lived on 88th street and Central park west—just a smidge too far north for Macy's Thanksgiving day parade to pass by our windows. To see Mickey Mouse floating southbound above the bare trees of Central park, we could either tune in to NBC's coverage or squeeze with the masses, hoping to get a glimpse of the show from the sidewalk on dad's shoulders.

There was one other way to get in on the inflatable fun. On the Wednesday evening before the big day, my father would stroll us down to the north end of the American museum of natural history, where the iconic balloons inflated.

I remember those nights bursting with holiday excitement as other Upper West Siders joined in the pilgrimage. We would smile at each other knowingly, feeling like cool insiders. Today this event is promoted and televised, but back then it felt undiscovered— something you would only know about if you lived nearby.

We gathered together with the other onlookers behind blue barricades, the roar of helium machines drowning out our conversation. Workers yelled instructions as Kermit the Frog came to life. The slight element of risk you felt was real. It was dark, and a few feet away cords the size of tree trunks kept the mammoth characters from rising into the ether. Those nights held so much of what there was to be thankful for the next day: The blessing of family, tradition and the magic of New York City.