Portrayed a recurring brief role as Alison, an exotic dancer and a vegan dialysis nurse who dated Evan Mitchell, a stockbroker.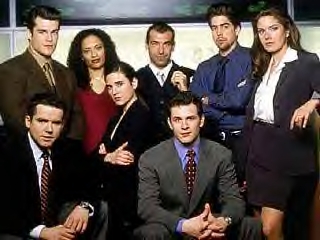 TV.com
Cast:
Evan Mitchell...Adam Goldberg
Jack Kenderson...Tom Everett Scott
Tom Divack...Giancarlo Esposito
Chris McConnell...Sean Maher
Donna Pasqua...Melissa De Sousa
Bridget Deshiell...Brigette Wilson
Catherine Miller...Jennifer Connelly
Freddie Sacker...Rick Hoffman
Tim Sherman...Christian Campbell
Alexandra Brill...Nina Garbiras
Pilot #1
Alison comes up from the ground at a strip club while Evan Mitchell and his friend were talking, dressed up as Xena the Warrior Princess to which Evan was very impressed.
Evan was trying to talk to Alison but she told him he should talk to the other girls for what he has in mind to do- all she does is dance. However, Evan wants to get together some time while following her to the dressing rooms. She doesn't want to know his name; bottom line is that she doesn't socialize with customers. He explained that he is not a regular customer while being held back by a guard at the doorway of the dressing room. Evan felt a real connection and his bottom line is he would love to take Alison out to dinner sometime. Alison still refused so Evan wanted her to answer a question- if she says yes, she has to go out to dinner the next night- Alison gives in: he asked if he saw her at a Xena 200 at a convention center? Alison takes the dinner offer as she took off her Xena wig- he is happy.
Evan and Alison were walking, she is a very unique person to him- a vegan dialysis nurse who moonlights as an exotic Warrior Princess. She is not a pro, not an actress either- Alison does Xena because she can relate to her. Alison then invites Evan up to her home, she kissed him and offered to put on the costume, to which Evan agreed. Evan goes to her room after she spoke to him about trying something that men usually freak out but Xena would have approved.
Evan goes up to Alison's apartment with flowers, finding her in the Xena costume, wanting to go- they kissed.
Propheting on Loses #2
Evan tells his co-workers about his Princess, flashing back about their dinner date the previous night that they were having a good meal until Alison told him that she was thinking of them having a threesome. Evan has known her for less then two weeks- they decided to play it by ear while his friends think that he should do it.
Evan and Alison were at a bar discussing to have a threesome when they are ready while she wants him to trust her. They looked around the bar- she suggested a man who was looking at them from the other side of the room. Evan got uncomfortable and went to get some air with Alison following him- he doesn't want to have sex with another guy and she's not making it easy for him. Alison thinks that Evan needs to relax, he is repressed, and he doesn't want to deal with it and decided to go home.
Alison brings flowers to Evan at work, apologizing as did he but he wants to enjoy just her for a while; she agrees.
Closet Cases #4
Evan and Alison were kissing with Jack Kenderson, Tim Sherman, and Freddie Sacker at the bar/restaurant looking on, wanting to get down to talking; she embarrassed Evan for stating that he's great in bed before leaving to get more drinks. They were all impressed with her, before she returned offering refills and putting the leftover change in her cleavage of her shirt.
Alison and Evan were having a romantic night in her apartment, wondering what to do next before deciding to play Scrabble. He went to get the game while she cleans up. In the closet, Evan found video tapes with Alison on the cover; he wanted to ask her a quick question.
Alison and Evan were watching her tape with her laughing- Alison was playing a nurse in a pornographic film involving her kissing another woman. She offers ice cream.
Alison was watching television when Evan came over, she was surprised to see him and glad that he was passing by over. Evan thinks that they should break up; if it's over, its over- fine by her. She thinks it's the porn thing that she had done years before she met him but Evan denies it: it's him. Evan really likes her as she likes him- it's amazing but the reality is he is like everybody else at the end of the day and imagines his life in the future not expecting to have her pornographic tapes there in the closet. Alison told him to leave but then she asked him if he thinks her image is so different from his- she's done many crazy things yet wants a family and believes that she will make one hell of a housewife one day. Alison then opened the door for Evan, telling him good bye. He hesitates to leave outside her door and she starts to cry