Brazilian Treatment
Isabel Gillies learns the meaning of eco-chic at the luxuriously remote spa in Bahia
Photographed by Mario Testino with model Karlie Kloss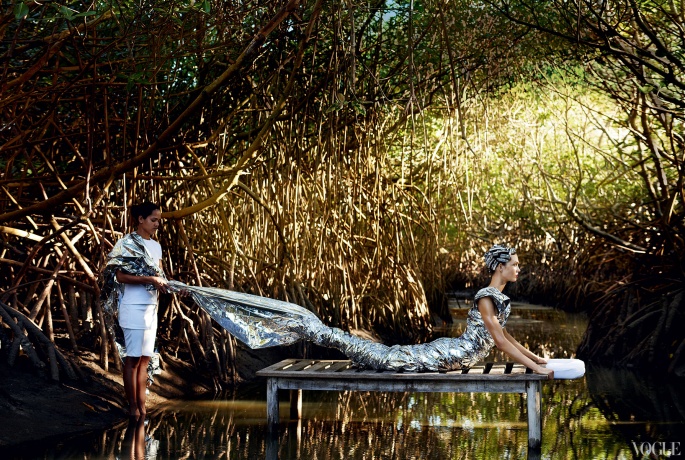 It was a dreary March day in New York City. I was in a small barbershop on Broadway getting my children's hair cut after school when my new iPhone rang. Still mystified by its controls, I barely managed the sweep motion to answer it. On the other end was an editor at Vogue, asking me if I would be interested in writing a piece about an eco resort and spa in a historic Brazilian fishing village overlooking the sea, where buffalo roam and there are horses to ride on the beach. I glanced in the barber's mirror at my pasty, weary face and wondered if someone was pulling one over me- it was, after all, dangerously close to April Fools' Day.
Summer White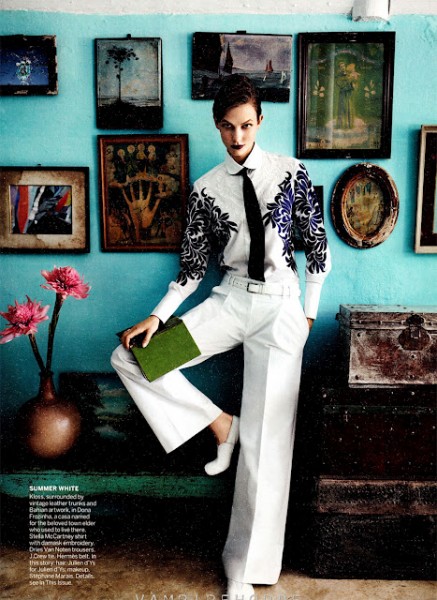 Kloss, surrounded by vintage leather trunks and Bahian artwork, in casa Dona Frozinha
"The place is called Uxua," the editor continued with what I now know to be spot-on pronunciation ("U-shwah"). "The spa is organic and with products made by local Indians in a nearby village. We would need you to go in the first two weeks of April."
Did she mean the exact time my kids were on break and with their father and I had nothing to do? (Well, I did have to finish my novel, but surely a trip to South America would only help in that endeavor.) Could there be a better assignment? And not only that, but I was invited to bring someone with me.
Peter, I immediately thought. My workaholic husband is the one and only person I would want to go on any trip with, but especially to Brazil. He had just been reading a book about the country and talked about its unique blend of indigenous Indian, African, and European cultures, its open-minded views on religion and sexuality, its economic reforms, massive natural resources, and expanding middle class making it the world's sixth-largest economy. We would be there ahead of the World Cup in 2014 and the Olympics in 2016. A Caribbean island or a Mexican resort would have been a hard sell, but a remote part in Brazil was right up Peter's alley as a New York Times reporter. Now the task would be getting him to take time off.
It did take a bit of convincing (my husband checks his BlackBerry in the middle of the night), but soon we were ending every e-mail with "BRAZIL!" and holding visas and tickets to Sao Paulo.
Prima Dona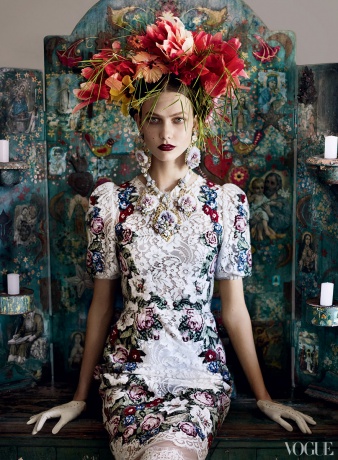 Kloss in Ze e Zilda casa at Uxua, decorated with a hand-painted antique altar
The good news is that it's a really easy overnight flight. You take off at nine in the evening and, with the help of a little pink tablet, wake up feeling fresh at six the next morning. I would do it again in a heartbeat.
Uxua Casa Hotel is in Trancoso, one of the country's oldest colonial settlements, halfway down the Brazilian coast. In 1586, Jesuit missionaries cleared a small plot of rain forest and founded the village, which appears to have been virtually untouched ever since. The grassy, traffic-free town square- the Quadrado- is framed by small, brightly colored houses. At the far end, perched on a cliff overlooking an endless stretch of beach and sea, is the original Jesuit church.
Uxua means "wonderful" in the local Pataxo Indian language, and the first wonder is its abundance of exotic trees and plants: bougainvillea and hibiscus, ravenala palms, cacao, and a mysterious specimen whose leaves smell like pepper. When Portuguese colonists arrived on Bahia's beaches in 1500, they did not return to Europe with silver or gold but with brazilwood trees, from which they extracted a bright-red dye. Trees still supply all kinds of riches, like the oil from the Bahian dende palm used for cooking, and the essence extracted from the sap of the almescar that I chose for a long, restorative, deep-tissue massage the night I arrived.
Uxua, the small hotel where we stayed, is rustic, elegant, and seamlessly integrated into the texture of the village. Its ten villas of different sizes- five are original Quadrado houses; the others have been built from reclaimed indigenous hardwood- feel personal and homelike. The hotel was founded by Wilbert Das, a Dutchman and the former creative director of the fashion company Diesel, who fell in love with Trancoso on a visit in 2004 and decided to create a restorative paradise there. Everything in the rooms, down to the copper faucets, was made by local artisans with details designed to preserve Bahian tradition and embrace nature. Each house has its own surprising treasures- a secluded, leafy garden, a thatch-covered veranda, or a deep sleep-inducing hammock next to a pool. One room sits in the branches of a gigantic mango tree; another has an outdoor bathtub carved out of a fallen pequi tree.
Home Body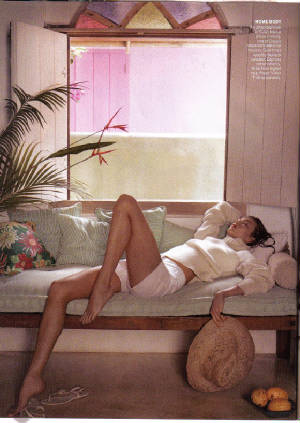 An afternoon nap in Gulab Mahal (Rose Palace), one of Uxua's restored traditional houses
We entered our casa, named Seu Pedrinho after a fisherman who once lived there, through a rounded wooden door to a private garden where hummingbirds hovered and darted in the morning and a blooming white flower- the lirio-do-amazonas- released its intoxicating, jasmine-like fragrance at night. We relaxed on oversized daybeds in our whitewashed living room and slept in an impeccably made four-poster at night, a pair of white Havaianas flip-flops waiting beside it that looked just like the ones I had forgotten at home in New York.
Waking up in Uxua was a joy, as birdsong and the soft morning air nudged me into the day. It's rare that I wake up next to Peter at all; he is usually already running or at his computer. But here he was, sleeping. "I'm going to get a treatment," I would whisper (after all, I was working), and he would smile with his eyes closed and say, "See you by the pool."
The sea-green pool at the center of Uxua is made out of aventurine-quartz crystals, said to have healing properties, next to an open kitchen and bar where Johne the bartender mixes icy, limy Brazilian caipirinhas and Bernardo the chef cooks outrageously delicious food: ceviche tumbling in cilantro and biri-biri; octopus carpaccio; shrimp wrapped in paper-thin eggplant and arugula; and lots of grilled fresh fish, bought every morning in the Quadrado from the fisherman who walks up from the beach dangling his catch on a stick. On our last night, Bernardo taught me to cook the traditional Bahian fish stew moqueca in the kitchen of our casa, and we ate in our garden under the thick stars.
True Grit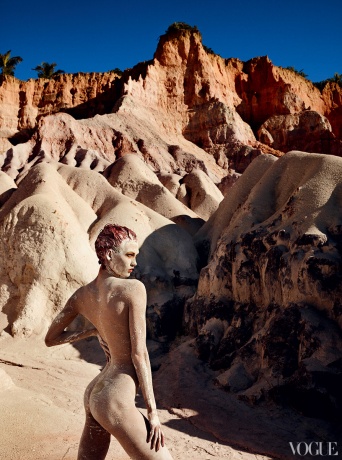 A head-to-toe mask of purifying red and white clay collected from the cliffs by Lagoa Azul
The spa at Uxua extends far beyond the hotel. For the white-clay-lagoon trip, you ride on horseback to Taipe Beach, where glorious clay cliffs come into view, colored tangerine, red, coral, and amethyst. You walk a short path to a hidden lagoon whose rim is made from a surprising chalk-white clay; you can scrape it out with a spoon and rub the mineral-rich, exfoliating scrub all over your body. Peter yelled, "I feel like a kid!" as he pasted more and more over himself. Then, caked and happy, we lay in the sun for 20 minutes, allowing the clay to dry as any last vestiges of stress from our faraway lives soaked away into the sand. Scooting back, white as ghost crabs, we plunged into the warm ocean waves, emerging with skin that felt washed clean, velvety, and firm. We stayed in the sea for a long time that afternoon, tossing and floating, while the horses rested in the shade of the amendoeira trees on the shore.
Every ingredient used at the spa comes from the earth. A pre-sun body scrub and hydrating massage- the morning "moon bath"- consists of grated coconut (an exfoliating antioxidant) mixed with organic virgin coconut oil that is methodically worked into your skin. Brazilian culture stresses an acceptance of all parts of the body, and this massage is not restricted to the arms, back, and legs. I never knew how much tension I held in my larynx and abdomen until a therapist at Uxua worked it out as I lay listening to the hollow knock of a woodpecker in the jungle outside. When the massage is over, you feel peaceful, soft, and ready for the beach.
Lightness of Being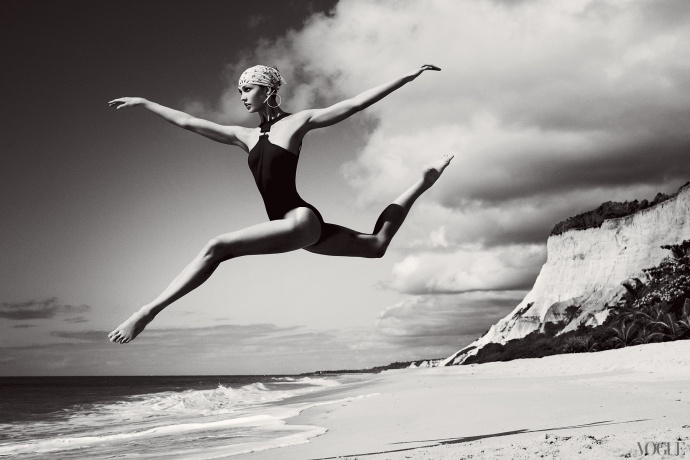 Leaping into the surf at Taipe, a short ride on horseback from Uxua
Oh the beach! Since there are strict rules about development, nothing disrupts the view as far as the eye can see- just Atlantic mangroves and, moored in the sea, faded wooden fishing boats bobbing in the waves. Like something out of Robinson Crusoe, two or three abandoned vessels are strewn at the high-water mark, one of which has been recast as a beach bar, where a bartender chops open fresh coconuts and pulls cold Bohemia beers out of the fridge.
One morning after breakfast, we kayaked through the mangroves, paddling along a tranquil river past water lilies anchored in the nutrient-rich mud. The soil is so healthy that ocean fish swim in from the sea through saltwater channels to lay their eggs. Kingfishers swoop to and fro, perching briefly between the spindly, elongated mangrove roots. Otters and crabs move in the water while about them, from the canopy of the gigantic gameleira tree, little black monkeys with white faces dart about.
Another day we took off on mountain bikes through a colossal valley near Itaquena Beach. There, just as my editor had said, horses and water buffalo roamed wild. Flocks of emerald-green parrots flew over our heads. At certain times of the year the valley floods, creating a massive expanse of water that rests between the mountains. But the landscape before us that day was a pure sweep of grasslands and grazing animals on sloping hills under a streaming sun.
How She Moves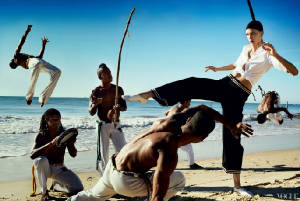 Dancers from Capoeira Sul da Bahia, the school Uxua's owner, Wilbert Das, supports in Trancoso
Though I hardly needed more exercise, I did take a lesson in capoeira, the traditional Brazilian martial art that combines heavily percussion-infused music and dance. Slaves in the seventeenth century invented capoeira as a way to maintain their agility and power. After trying it in Uxua's gym, I was lucky enough to watch a class at a local capoeira school in town. Men and women of all ages and skill levels took part as the studio vibrated with the electrifying energy of swift movement, hypnotic rhythms, and profound tradition. Watching the dancers' glistening, exuberant bodies moved me to tears. The room was so full of life, which is really what our entire experience of Uxua and Trancoso had been: life-giving.
On our first night back in New York City, standing in our tiny subway-tiled bathroom, I fished out a small jar of Uxua face cream from my still-packed suitcase. As I lifted the lid, I could smell the rare trees that surrounded our casa. "Peter, come here!" I said. We passed the jar back and forth between us for a while, inhaling the scent and everything it captured.